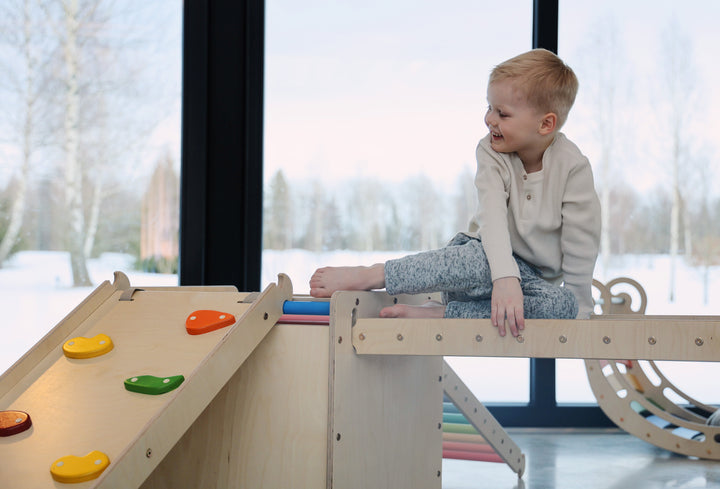 Toys for the Development of a Child from 2-5 Years of Age
Continuing our series of articles on appropriate toys for each age group of children, in this article we will look at the age group of children from 2-5 years.
This is the time when the little one becomes a conscientious person. He continues to explore the world, to understand the limits of what can and cannot be done. This is usually the time when the child is most active. That is why parents have to think about how to occupy the little one so that it is safe, developing and interesting.
When creating toys, KateHaa puts the main emphasis on making them multifunctional, so that they grow with the child and create different combinations, the toys will not become boring and be interesting. In fact, every KateHaa wooden toy is appropriate for a child at this age, but here we will discuss more about Climbing cubes, Montessori Playhouse, Montessori Rocker and accessories that can be added to any KateHaa toy to create a multi-functional play environment.


KateHaa
wooden climbing cubes
are a great piece of wooden play furniture. Climbing cube is based on a cube-shaped construction, where ramps can be added on all four sides. The types of combinations are unlimited. By crawling and sneaking, the little one develops his physical resilience, by feeling and grasping, he develops motor skills. It comes together as a small gym for the child, where he can understand how things work and realize his possibilities of stability and balance.
Like the Climbing cube, the Montessori Playhouse is very popular at home. It is a playhouse that the child can construct, design and build as he likes. The types of combinations are unlimited. It can be a house with a roof, stairs and a slide. The little one develops architectural skills, physical endurance and logical thinking. 




The Montessori Rocker, in this age group, is a good ally for role-play. It can be installed as a shop, cafe or workshop counter. In it, you can swing like a pirate ship on the waves of the sea, and you can climb the highest mountain, reaching new peaks. The flight of thought is immeasurably vast. At the age of 2-5 years, the world of imagination is very important. It stabilizes the child's thinking and psyche. The longer a child believes in imaginary images and opportunities to experience a miracle, the easier it will be for him to mature psychologically in the future. The Montessori Rocker is a great helper for this, not taking up much space, but combining all the flights of thought.

Finally, KateHaa, featured accessories. These include a climbing ramp, a ladder ramp and a slide. They can be combined with almost all KateHaa wooden toys. All ramps are stable, they have additional safety straps, so parents and educators can be sure that children play and develop in a safe environment.

From meeting and talking with our current and future clients, KateHaa has learned that people are different and ideas about how children should play may vary, but one thing is for sure, we all want the environment in which our children grow to be safe and creative. Let the little conquerors of the world learn something new and interesting every day, knowing that everything will be fine with them.