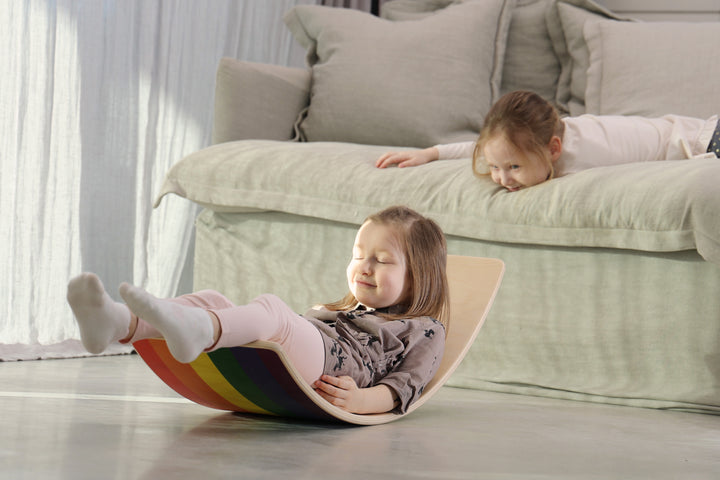 Toys for the Development of a Child from 5-8 Years of Age
In a series of stories about suitable toys for each age group of children, we have come to 5-8-year-old children. This is the time when children are preparing for school, their understanding of the world order is becoming clearer. Very often, nowadays, children focus on computer games and phones, but we parents want the screen time to be less. How to entertain a child so that he is interesting and physically employed?! KateHaa has once again created the answer to this question.
KateHaa wooden toys, as already mentioned in previous articles, are multifunctional, they grow with the child. As one of the best examples, we can mention the Montessori Rocker, also, balance boards and climbing cube sets.
There are moments when a child wants to hide from the world and be alone. The Montessori rocker delivers it. You turn it upside down, put a blanket on top, put a pillow and it can turn into a headquarters.
Put the Montessori Rocker pillow in it, snuggle up and enjoy a moment with a good book. The child will appreciate that the parents understand the needs of his private space, and whenever the little one comes in, the child can crawl around and enjoy physical activity.
The balance board is a unique product. As already mentioned in the previous articles, it is suitable for both kids and grownups. It is a great wooden product where the child trains physical endurance and balance.
In talking with the little athletes, KateHaa has found out that this board is a great helper in daily hockey training, because the child can develop the skills of balance and concentration, and it also develops leg muscles perfectly. Balancing and controlling the ball with the stick at the same time is similar to being on skates and having to stay on the ice, but you have to focus on the puck. With the balance board you can swing, balance, climb and develop.
Finally, climbing cubes. As mentioned above, they are multifunctional and adapt to the child's wishes. They can be put together, combined with ramps and slides and will fit perfectly into any interior. KateHaa offers three color variations of climbing cubes. Natural, pastel and rainbow.
The child will be delighted that he/she can come up with new combinations, build houses, castles- build his/her own place to grow, develop and be. These wooden cubes develop motor skills, physical endurance and spatial sense.
Child development is important at every age, as it prepares the child for future life. KateHaa believes that natural and colorful wooden toys help create a safe, happy and active environment for the child. Take a look at our wide offer, and you will definitely find exactly what suits your child best.